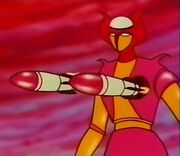 The Oppai Missile System is a weapon system used by most of the female robots of the Mazinger series. They usually involve launching a limited amount of missiles from the chest area. The first robot to use this system was Aphrodite A and was used by several subsequent female mechs.
In the Mazinger Angels spin-off manga, the Oppai System is much more diverse where besides using a bigger variety of missiles to attack, there are also fans, liquid guns, and storage for melee weapons.
Users
[
]
Original Series
[
]
Mazinger Angels O.P.M.
[
]
Etymology
[
]
Oppai comes from the Japanese slang term for 'breast'.