Jurassic World: Dominion Dominates Fandom Wikis - The Loop
Play Sound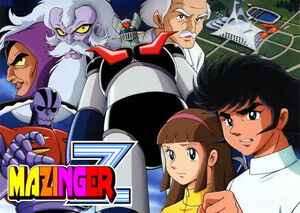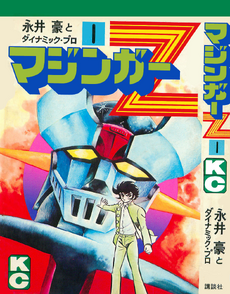 Mazinger Z (マジンガーZ Majingā Zetto) is a Japanese super robot manga and anime series created, written and illustrated by Go Nagai. The original manga version is debuted on Weekly Shonen Jump in October 2, 1972 until it is ended in August 13, 1973 and was continued in a different format in TV Magazine from October 1973 to September 1974, with an anime adaptation airing on Fuji TV in December 3, 1972 to September 1, 1974.
Plot
[
]
The manga and anime tell the story of the protagonist, Koji Kabuto and the titular mecha Mazinger Z. The Mazinger was created by Koji's grandfather Professor Juzo Kabuto from the discovery of the fictional Japanium and using it to create the powerful and durable Super Alloy Z. It's main purpose was to combat the Mechanical Beasts of Dr. Hell, a former colleague of Professor Kabuto who killed the research team he and Prof. Kabuto were a part of during an expedition in the Greek island Bardos. Prof. Kabuto managed to escape and began his work on the Mazinger and other robots to combat Dr. Hell. Managing to finish it, the professor was killed by a bomb planted by one of Dr. Hell's henchmen, Baron Ashura. Koji noticing the explosion rushes to his grandfather's side. With his dying breath, the professor informs his grandson of the impending danger and gives the Mazinger to him. Koji swearing vegeance on Dr. Hell, becomes the pilot of Mazinger Z and with help from his girlfriend Sayaka Yumi, his younger brother Shiro Kabuto, and some sort of help from Boss, Koji fights against Dr. Hell and his minions.
Anime Episodes
[
]
Anime Music
[
]
Manga Issues
[
]
The early Mazinger Z manga was published in Weekly Shonen Jump; by the time the manga moved to TV Magazine, it followed a plot more similar to the anime. When the manga was published in volumes there were some issues with the chapter placements as the Jump series ended on a cliffhanger and later publishes contained chapters from both the original and TV Magazine versions that overlapped each other, leaving out important information from both sides. This continued until a couple decades later where the Mazinger Z manga was given a proper explanation of events along with a final battle against Dr. Hell. This final battle is placed in the initial tankoban releases of Great Mazinger causing some confusion on continuity. Years later the proper placement was fixed with the finale having the arc name of "Mazinger Corps".
Creation and Development
[
]
Go Nagai stated that he was inspired by Osamu Tezuka's Tesuwan Atom (which premiered 20 years before Mazinger Z) and Mitsuteru Yokoyama's Testujin 28-go (Japan's first Giant Robot series) in his Manga Works series. However, wanting to find a more original idea than what was already used, he got the idea of internally piloting a mecha from observing a traffic jam and the feeling of bypassing that traffic. At first the robot was called Energer Z and instead of using a hovercraft-like Pilder like the Mazinger, the component was a motorcycle, but Nagai's editor suggested something else due to the popularity of Nagai's former employer Shotaro Ishinomori's Kamen Rider metaseries. With this in mind, Nagai redesigned and renamed the mech into the Mazinger Z to evoke the image of a demon god (Ma, meaning demon, and Jin, meaning god).
DVD Release
[
]
In 2013, Discotek Media announced that they had acquired the license to the 1973 anime from Dynamic Planning. The DVD includes the first 46 episodes of the anime and was released for Region 1 on April 29, 2014 and is available for purchase on their website. A second DVD set containing the second half of the series is was released on December 23, 2014 [1]
External links
[
]
References
[
]