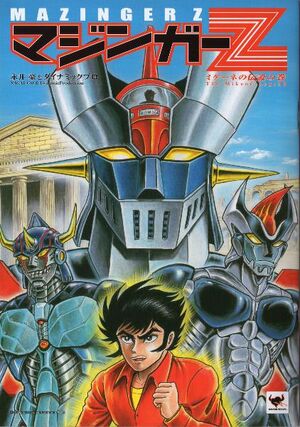 Mazinger Z: Mycenae no Densetsu no Maki is a prequel manga to the original series by Go Nagai given away with the first produced models of the special edition 40th Anniversary DX Chogokin Mazinger Z models. It shows the origins of the Mazinger Z and the influence of its creation. Due to its limited numbers, the booklets are considered valuable by collectors, even more so than the models they were released with.
Characters
Edit
Juzo Kabuto: the main character of the manga, having researched the ancient but advanced machines of the Mycenae Empire, he created Mazinger Z for his grandson Koji to use.
Koji Kabuto: Juzo's eldest grandson and the inheritor of Mazinger Z.
Dr. Hell: Juzo's arch rival and former colleague. Having discovered the Mechanical Beasts on Bardos, he strives for world domination.
Mycenae Empire: An ancient but technologically advanced empire that built giant robots.

Ghost Mechanical Beast Majin Z1: A Ghost Mechanical Beast used by the Mycenae Empire; served as the model for the Mazinger Z.
Ghost Mechanical Beast Great G1: Another Ghost Mechanical Beast used by the empire; served as the model for the Great Mazinger.
Community content is available under
CC-BY-SA
unless otherwise noted.