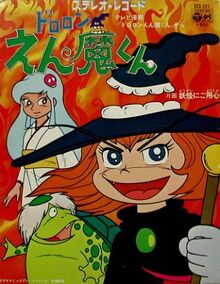 Dororon Enma-kun is a manga and anime franchise by Dynamic Productions featuring the misadventures of Enma, the nephew of Enma Daio and his Yokai Patrol. Several anime adaptations and manga spin-offs were produced including Dororon Enpi-chan which features a teenaged female version of Enma as well as several crossovers including with Osamu Tezuka's Dororo.
Enma (nicknamed Enma-kun), nephew of Enma Daio leads a Yokai Patrol with his childhood friend Yukikohime, Kappaeru, and the talking hat Chapeauji to hunt down villainous yokai that escaped from Hell and are tormenting humans on Earth. At times he works together with humans including Tsutomu-kun and/or Harumi. While the original format and similar series were more like gag manga, more mature releases such as Kikoshi Enma are more series and dark.
Dororon Enma-kun in Mazinger
Edit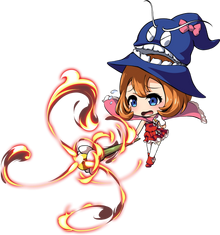 Community content is available under
CC-BY-SA
unless otherwise noted.